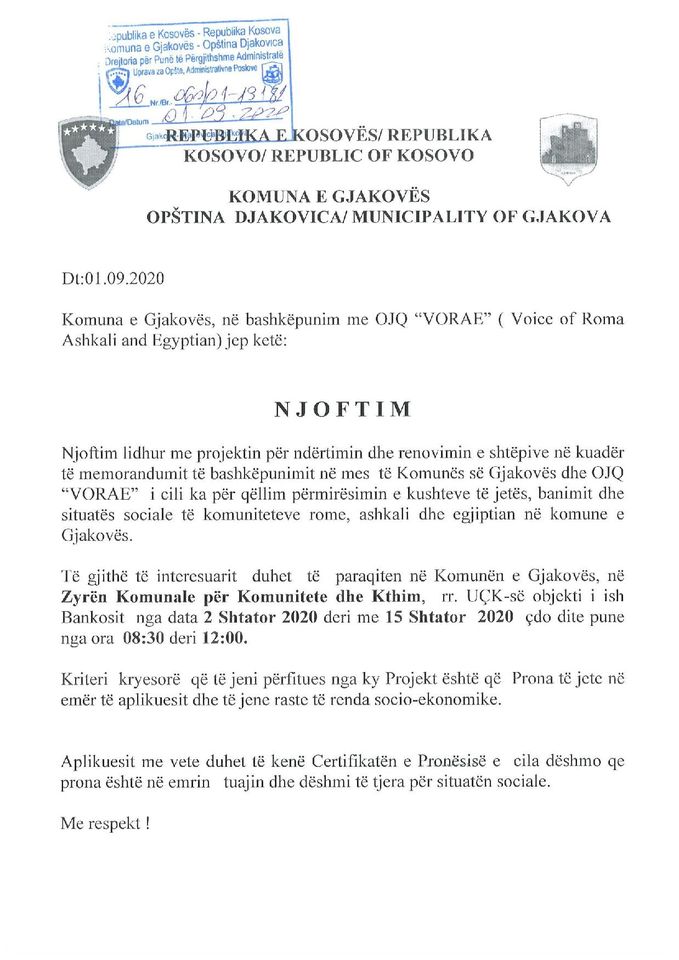 Housing is essential for a better life!

The Social Justice for Roma, Ashkali and Egyptians project in Kosovo aims at a multi-ethnic and multicultural society in Kosovo, where Roma, Ashkali and Egyptians are treated equally by the state and society, with access to the same opportunities as all others, and where Roma, Ashkali, and Egyptians know their rights and responsibilities and are equal to enjoy those rights.

Where they have access to and use good quality public infrastructure, and where services are available and accessible to their families.
Poor quality housing, housing below the prescribed standards are problems that most families of the Roma, Ashkali and Egyptian communities living in Kosovo face every day. Creating sustainable and affordable housing solutions is a complex issue that requires different answers.
Solutions for building and improving the housing conditions of the Roma, Ashkali and Egyptian communities in Kosovo often do not receive the necessary attention from both the local and central levels.
The organization "VoRAE" through the housing program aims to address the needs for a sustainable solution by advocating with Municipalities throughout Kosovo for subsidizing the housing program which will enable these families to have housing conditions that are in line with standards provided.
The Office for Communities and Returns in the Municipality of Gjakova has responded to the request of the organization "VoRAE" to adapt the model "HOUSE UP GRADING" which was implemented from 2012 to 2019. The Municipality of Gjakova has allocated 20,000 euros and "VoRAE" 20,000 to support families in need.
Now the Municipality has initiated a public call for social categories to apply for the construction and renovation program which will be implemented this year.
Advocacy from the organization "VoRAE" to subsidize housing programs will continue in other municipalities of Kosovo.