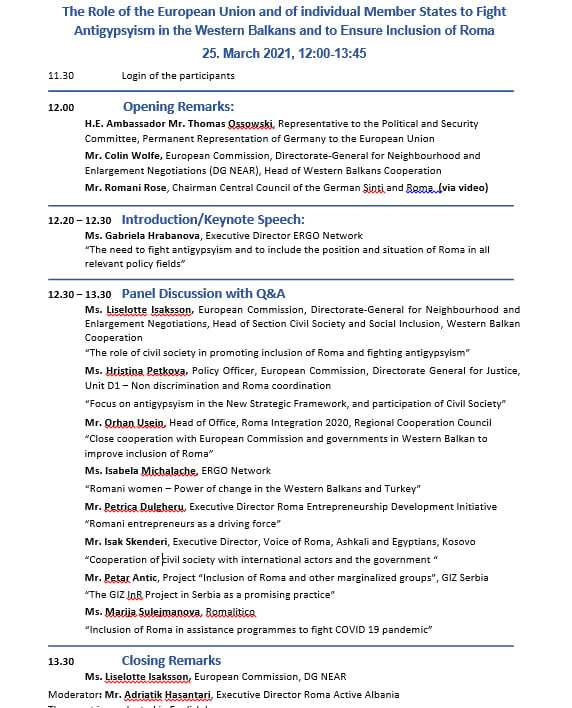 Fighting and addressing "ANTIGYPSISM"
The fight against anti-Gypsyism, the role of the EU and individual member states, was the topic discussed today at the conference organized by the Permanent Representation of Germany to the European Union together with the Central Council of German Sinti and Roma, ERGO Network and Roma Active Albania.
In this conference, in addition to discussing the fight against Anti-Gypsyism in the Western Balkans, representatives of marginalized ethnic communities were given the opportunity to present their position and proposals by discussing them with representatives of the European Commission and EU member states.

Our Executive Director, Mr. Isak Skenderi during the presentation stressed the importance of cooperation between civil society, international actors and the Government, to fight anti-Gypsyism and to support the social inclusion of Roma and other marginalized ethnic communities in the Western Balkans and Europe. Kosovo is one of the first countries to start addressing anti-Gypsyism at the institutional level through the establishment of the Technical Group for Combating Discrimination against Roma, Ashkali and Egyptians in Kosovo, managed by the Office for Good Governance within the Office of the Prime Minister.

Mr. Skender stressed that: for a truly multi-ethnic and multi-cultural society with equal rights by the state and society, for all communities; The EU, the individual member states, the countries of the Western Balkans, civil society, etc., must take the moral and political will seriously.